So here's another first, yesterday we brought Maeve to her first movie in a theater.
And not just any theater, we took her to the Mayan in Denver. The Mayan is the most beautiful movie theater I have ever been to, it's full of 1930's style Mayan artwork, and it just really feels like an older cinema. Nothing of the slick, modern theater except cupholders.
As a result of it being an older theater, Maeve couldn't see the screen from her seat all that well, so she sat on her very patient Daddy's lap for most of the movie. He reported to me that she whispered to him a few times that it was "very dark" in the theater, but otherwise she seemed rapt in the movie the whole time.
We took her to see
When Marnie Was There
, an anime film from Studio Ghibli, and she really enjoyed it. As Daddy pointed out later, it was really more of an 8 year old's movie, but despite it being about friendship and feeling awkward as a pre-teen, she seemed to really connect to it.
I also really loved it, a wonderful story with Ghibli's usual flawless, breathtaking animation. Their movies always somehow transport me to the Japanese countryside, and bring me an immense sense of peace, no matter what the plot.
I was proud of how well Maeve behaved, she was very quiet and paid attention to the film. I can't wait till we get to go see Pixar's Inside Out later this month! For that, we'll definitely head to our local AMC with the cool couch-like seating. Should be good for a kiddo snuggle.
So excited!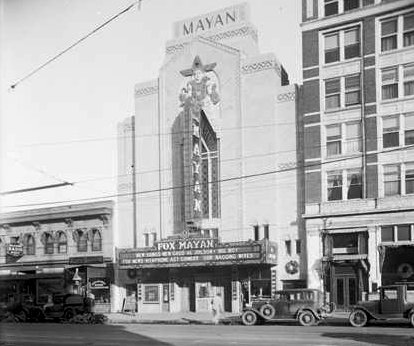 As it looked 75 years ago!